Date Published: 12/04/2021
ARCHIVED

- Beaches in the Vega Baja covered with harmless "sailboat jellyfish"

The beaches of Orihuela, Torrevieja and Guardamar del Segura have all seen shoals of these organisms arrive in the last few days
The arrival of different species of jellyfish is common at this time of year, especially in the province of Alicante, and beaches in the Vega Baja have been visited by thousands of "sailboat jellyfish" over the past few days.
The coastline in Orihuela, Torrevieja and Guardamar del Segura, as well as in Denia, in the Marina Alta area, was covered in the small "sailboat jellyfish" (velella velellas), and although it's normal for social media to be covered in shots of these "jellyfish", these organisms are not in fact jellyfish but hydrozoans.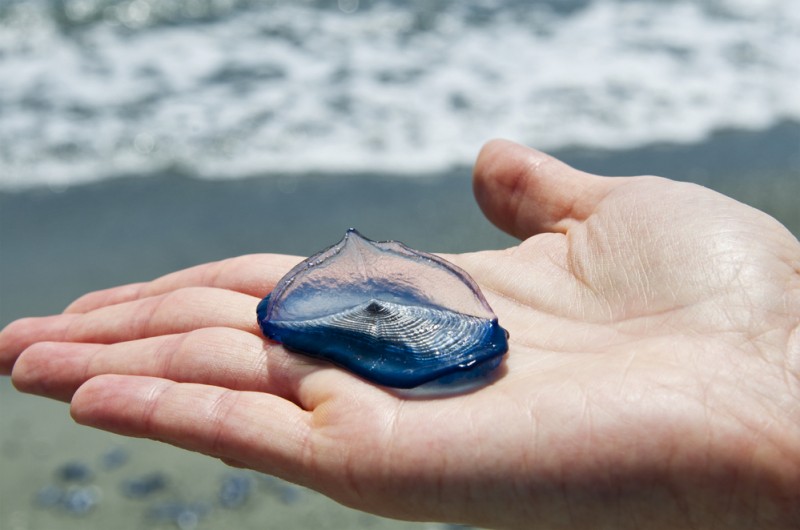 These marine invertebrates are also known as "by-the-wind-sailors", as they are normally found on the water's surface and are propelled by the wind. The velella velella species is very common in the Mediterranean and is easily recognizable by a characteristic vane which acts like a small sail, and their body is made up by flat oval disks around 6-7 cm in diameter containing a series of air-filled chambers that provide buoyancy.
These organisms are often confused with the extremely dangerous Portuguese man 'o war, better known in Spanish as caravels, due to their similar colours (blue and purple). The Man 'o War deliver incredibly painful stings with their 10-metre-long tentacles, which can cause fever, shock and even in extreme cases, death, in humans.
Despite their similar appearance to the deadly Portuguese caravels, the "sailboat jellyfish" are completely harmless as their stinging tentacles cannot penetrate human skin, although they might make a trip to the beach slightly unpleasant.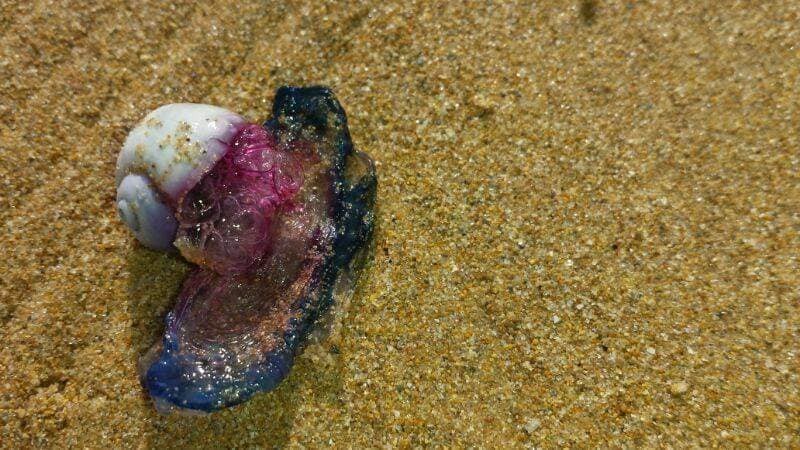 If the "sailboat jellyfish" are still alive when they wash up on the shore, they retain their dark bluish-purple colour, but once they die they lose their colour and turn transparent white.
In addition, purple storm snails (or sea snails), which usually appear at the start of spring or at the end of summer, have also been seen off the coast. These peculiar snails float upside down along the sea's surface using a combination of small air bubbles and a special mucus which they generate.
There have also been sightings of the Pelagia noctiluca (or mauve stinger), which, unlike "sailboat jellyfish", can be dangerous to humans. These jellyfish cause painful stinging incidents, which can even require medical assistance. Mauve stingers are a fairly small and variably coloured species and both its tentacles and bell are covered in stinging cells. Special care should be taken to avoid these jellyfish as being stung by one would definitely ruin a day at the beach; mauve stingers have also been sighted down the coast in Murcia.
article_detail
Contact Murcia Today: Editorial 966 260 896 / Office 968 018 268